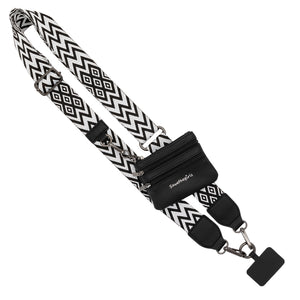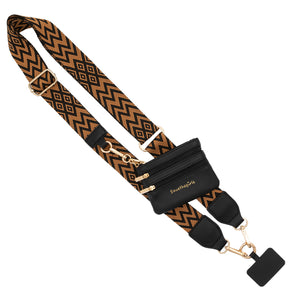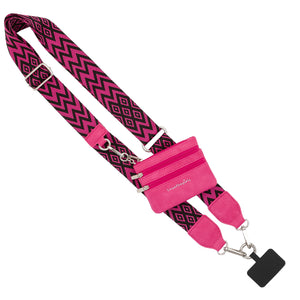 This crossbody phone strap is attractive, extremely comfortable, and offers more than meets the eye! The multifunctional design allows your phone to hang at your side hands free, while the included innovative hanging phone card, convenient zippered change pouch and detachable wristlet combine to create a product that has undeniable global appeal.
Simply place our phone card in your phone case and slip the phone card tab through the phone charging opening. You can then clip our beautiful, adjustable shoulder strap to the tab and go! It is so convenient and you can still access charging port as normal. Wear your phone hanging at the end of the shoulder strap or remove the separate wristlet strap section and carry your phone on your wrist! Carry cash, credit cards, change or other small essential items safely and securely in the zippered pouch. Wear it your way, just Clip & Go!!
Features:
Included Hanging Phone Card, converts your phone case into a hanging cross body carrier
Beautiful and extremely comfortable, adjustable cross body shoulder strap, with removable wristlet
Comes complete with a cute hanging (3) zippered change pouch. Carry cash, credit cards, change, and small items
Removable, adjustable, cross body shoulder strap can easily be used on other purses
Dimensions:
Adjustable Shoulder Strap: 40" to 58" long and 1.5" wide
Zippered Pouch: 4.5"wide x 3.5" tall w/3 zippered compartments
Detachable Wrist Strap: 9" long x 1.5" wide
Returns and Exchanges
'Save The Girls' wants to ensure that you are absolutely satisfied when you shop with us. Each order is uniquely inspected and packaged by hand to ensure accuracy and to maintain the highest standards of quality.
Returns are accepted within 30 days of receipt of your products. Returns must be in unworn condition with all labels still attached. Returns that adhere to our Return Policy will be refunded the purchase price (minus shipping). Customer is responsible for return shipping costs. If you have a defective product, please contact our Customer Service department for assistance.
The best!
Love this strap. It is perfect for work and at play!
Mom loved
Got this for my mom, she loves it. She wears it all the time so now I wish I got her a neutral color. Lol, next time.
There is always next time. Thanks for your support!
GENIUS!!
This thing is awesome!!! Got one for my daughter and I and then realized there were so many more style!!!! Now I have to buy more. But I love this idea, thank you!
Yay!! So glad you love it Jeanna
I now wear this all the time. All I need! Hated carrying purses anyways.
Yay! Thanks for your support
Love this! I love that you can detach it and make it into a wristlet as well.
So glad you love it Marla. Thanks for your support!