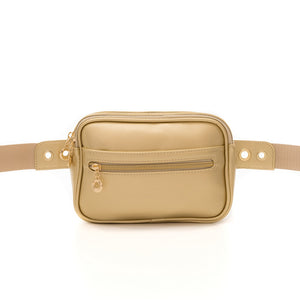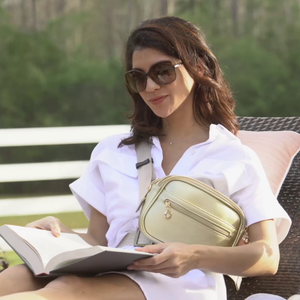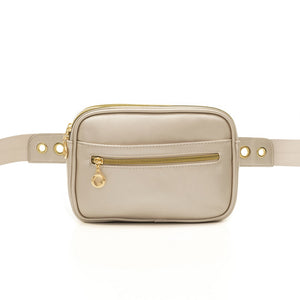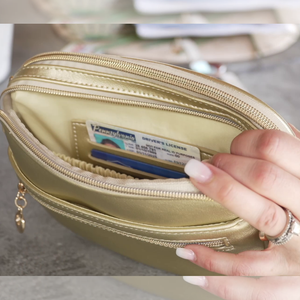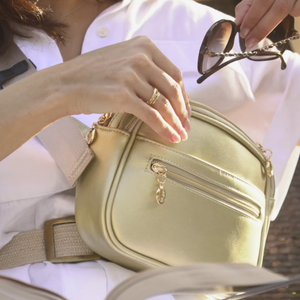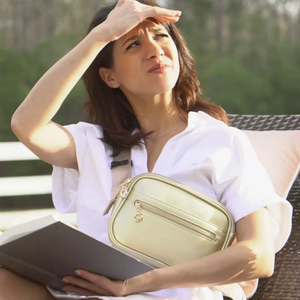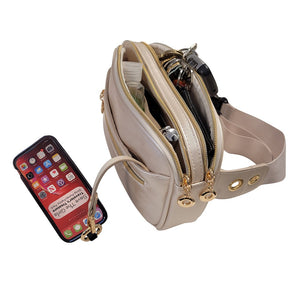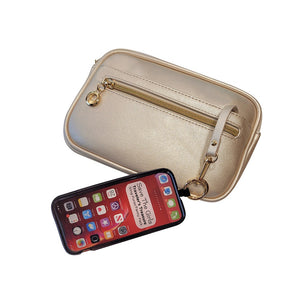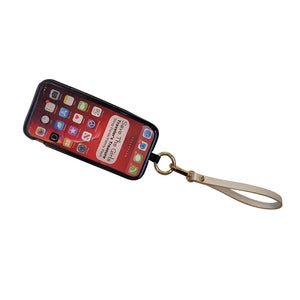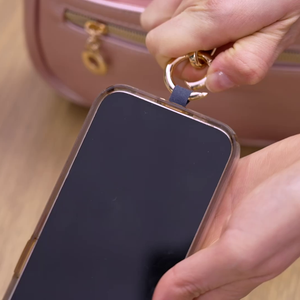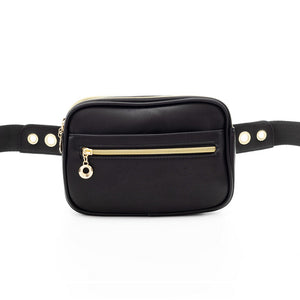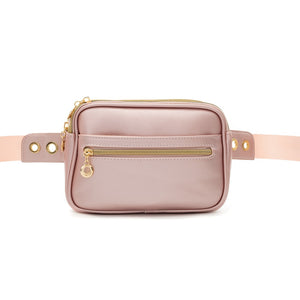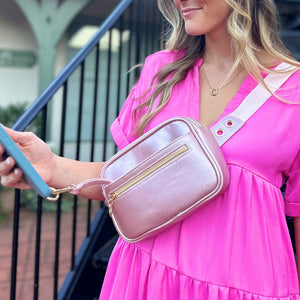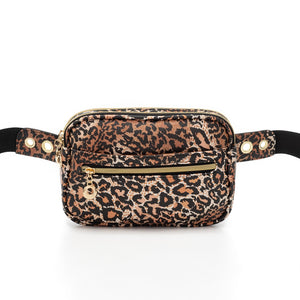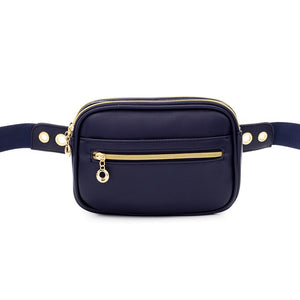 The Travelers Treasure Sling Purse/Fanny Pack is a spacious and versatile accessory that brings joy to every outing. Carry all your essentials and your phone right at your fingertips. Attach your phone securely to the purse using the front pocket strap, or clip it into the included wristlet for on-the-go ease. This trendy purse features three RFID credit card slots, and a zippered pocket to keep your cash secure. Travel with confidence with this must-needed purse by your side!
Features
Durable vegan leather.
Shoulder strap adjusts from 22.5" up to 56" (including the bag) and is a comfortable 1.5" wide. It will easily convert to sling purse/fanny pack.
Comes with a short strap securely sewn to inside of front pocket to hold the enclosed hanging phone card.
This cute bag has two side-by-side zippered pockets that make up the roomy and functional interior.
Equipped with (2) durable shoulder strap clips, designed to hold the excess strap without slipping once the bag has been adjusted to the desired position on the body.
(3) credit card slots.
Roomy interior provides plenty of room for money, keys headphones, glasses and other small items.
RFID Protected.
Dimensions
Exterior: 8.25" wide x 5.5" tall x 2." deep (from front to back)
Interior: 8" wide x 5.25" tall x 1.5" deep (from front to back)
Returns and Exchanges
'Save The Girls' wants to ensure that you are absolutely satisfied when you shop with us. Each order is uniquely inspected and packaged by hand to ensure accuracy and to maintain the highest standards of quality.
Returns are accepted within 30 days of receipt of your products. Returns must be in unworn condition with all labels still attached. Returns that adhere to our Return Policy will be refunded the purchase price (minus shipping). Return producst to Save the Girls, Attn Returns, 9300 West Main St., Belleville, IL 62223. Customer is responsible for return shipping costs. If you have a defective product, please contact our Customer Service department for assistance.
Reviews
Perfect for everyday use
I use this everyday now. Fits all I need and I never have to take my phone out. I got the grey but now want a color.
Awesome!! the blue and green are so pretty! Thanks for helping us Save the Girls
Great for travel
Took this to Europe and it was so handy. I always had my phone attached so never worried about being stolen from. I was also able to carry everything I need everyday. Never needed another bag.
Love this purse!
So cute and so roomy!!! I fit a whole waterbottle in here! love it.
So glad you love it. Thanks for helping us Save the Girls, Kristen.